2021 Cabrinha Overdrive MODULAR 1X with TRIMLITE Control Bar
ADJUSTABILITY, INDUSTRY STANDARD CONNECTION & SIMPLICITY
*Modular Bars comes without any connection methods. You must add a Loop, Fireball, Slider etc. 
Product Code: K0CSODMDC
Medium (44-52), Large (52-60)
A multi-function, ergonomic, adjustable control bar with Cabrinha's 1X security, Modular connection and TrimLite system.
RIDER PROFILE
Every rider from beginner to pro who uses an inflatable kite with a single line (1X) compatible method of security. Adjustable bar length and a cleat trim are a priority.
The Overdrive Modular 1X is the control system for the next generation. Customization and personalization are at the core
of this extremely versatile control bar. With 1X Modular you can easily customize your connection method to perfectly match your style of riding.
With the Overdrive Modular 1X control system you can configure your connection for Freestyle, Surfing, Freeriding, Foiling, or Racing in under 3 seconds. Your specialized method of connection simply attaches or detaches without the need for tools or compli- cated instructions.
All connection methods attach directly to our all new streamlined Quick Release. This all new QR is based on the proven and time-tested geometry of the QuickLoop.
Our industry first dual density highly textured bar grip provides a unmatched rider interface for unhooked, as well as hooked-in riding. The ergonomically designed asymmetric finger bar provides intuitive and instant tactile left/right orientation. Our soft touch bar ends provide a safe and stable steering platform with on-the-fly bar width adjustment and convenient line retainers.
• NEW Easy adjust Overdrive bar end with 8cm width and leader adjustment
• NEW Fully retracting bungee line retainer
• NEW Soft, yet durable and ergonomic injection EVA bar ends with flex grooves
• Asymmetric design with superior comfort and traction for enhanced grip
TRIMLITE
Our customized compact stainless steel TrimLite CleatTM allows precise and positive trim adjustment. The light weight design has an elasticized trim line, and internalized mainline and landing lines protected with PU tubing, which gives you a minimalist system with perfect balance and trim to match the changing wind conditions.
• Simple and clean system
• Durable stainless steel cleat
• Integrated bungee in trim line to reduce tail
• Low 'V' connection for direct steering
• 1X Centralized flagging line connection point
• DSM DyneemaTM low elongation flying lines for direct
and uncompromising performance
• 8m lower front lines for convenient serviceability • Color coded line connection, for improved safety
Includes Short Leash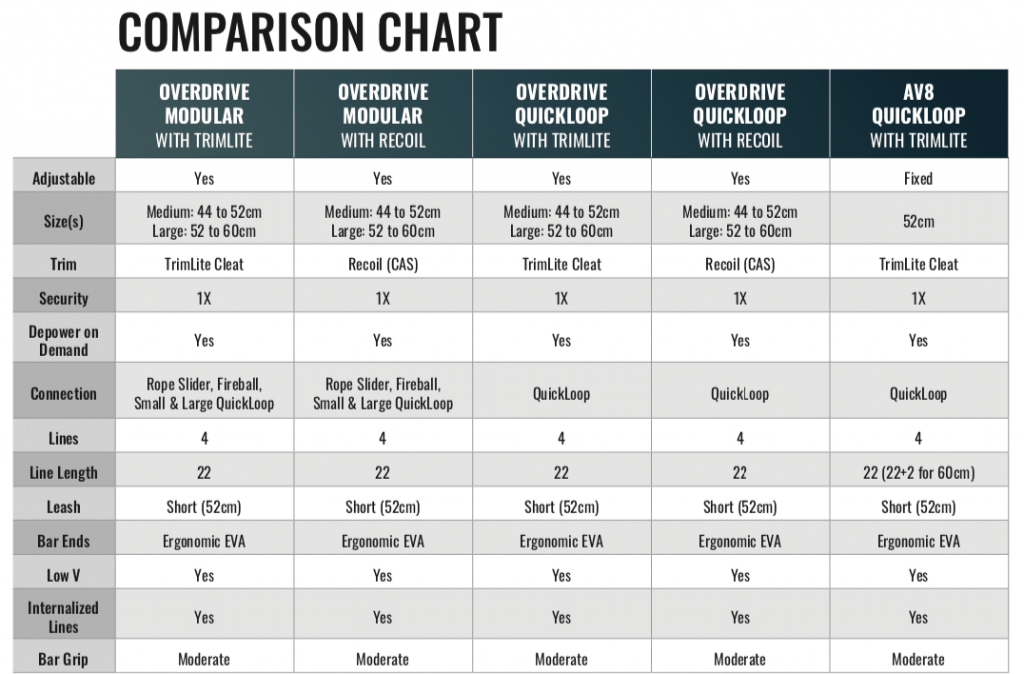 | | |
| --- | --- |
| Bar Size | Medium (44-52), Large (52-60) |
Brand
Cabrinha Kites
Cabrinha Kiteboarding
kites -  Cabrinha Boards, Cabrinha foils & surf
Whether you are looking for the new Cabrinha Moto Kite or popular kites like the Cabrinha Switchblade, Contra, Kiteboarding Closeouts can help you get your complete quiver together and get you out on the water. Set up a user name and password with us to start shopping for state-of-the-art Cabrinha gear.
We carry all of the latest Cabrinha products. Follow us on Instagram to see the latest sales, trends, and promotions.
From beginner rider to advanced improve your sesh with Cabrinha's product lineup. For more information stop by our shop or call us. We even provide instructions (in English). Explore FX, bow kite, canopy material, nano, Cabrinha news regarding conditions, wind range, proper sizing, control, pull, holding an edge, boosting, types of gear, kiteboard alternatives, wings, and everything from videos, bar and lines, kite stability, various options/offers available in stock, and more.
Join us at an event demo to try out the latest in Cabrinha kites. Meet the Cabrinha team riders, get insights about the latest in the sport. Level up your sessions.
We love our customers. Phone, email or message us for more info.
We offer FREE shipping on most Cabrinha kites, kiteboards, foils, surf, spreader bars, chicken loops, and accessories (some minimum quantities apply). You can also choose local pick up. Use the navigation below to find the products you are looking for quickly and easily.
Cabrinha leads the industry in safety and performance. Since 2000, Cabrinha, a subsidiary of the Pryde Group, has climbed the ranks to take the position as the leading kitesurfing brand, selling in over 40 countries worldwide. Inspired and driven by Maui waterman, Pete Cabrinha, the company produces everything from kites to boards to accessories and sponsors the top athletes in the sport.
The Cabrinha approach to kiteboarding has evolved very much from the same philosophy that Pete has applied to his many years of surfing.
By keeping an open mind to all styles of riding and embracing new technologies, Cabrinha has been able to lead kitesurfing into a new era of performance.