Erik Antonson: I wanted to design a foil to maximize fun in weak conditions, everyday Florida. Insane pump and glide without giving up roll or turning. Easy to ride so I could focus on surfing not managing stability.
The 170 Progression accomplished those goals and the bonus is that those traits also excel in downwind and on the wing. I'm spending 80% of my time on foil on the 170.
The 170 pump and glide was surprising compared to other foils in that range. So I asked Cliffy if we could do a smaller version for better surf. This became the 140 Progression. It pumps like other 170s but surfs much smaller. I ride the 140 from waist to head high surf or epic downwind, runner or wing sessions.
The High Aspect 3.0 Is Here
The groundbreaking collaboration between Erik Antonson (the progression project) and Unifoil's designer and inventor of the high aspect wing, Clifford Coetzer is finally here. This is no ordinary foil, this wing is the result of uncompromising dedication and attention to detail. Erik, and Unifoil's years of combined knowledge and experience designing and studying foil sections, profiles, outlines and cambers have gone into the design that we are calling the High Aspect 3.0. This wing is set to change the game forever.
Front Wing Specs
140
170 in²
1097cm²
Span 920mm
Cord 145mm
Aspect Ratio 8:1
170
190 in²
1226 cm²
Span 952mm
Cord 157mm
Aspect Ratio 7.5:1
FEATURES
Forgiving and intuitive = Easier to ride!
Lowered Stall Speed = Longer Glide Time
Agility and Turning = Push it harder than ever before
Reduced Fatigue and Increased Cardio to Distance Ratio = Connect More Waves, Longer Pump and DW Runs
Stability in turbulence and breaches = More Control
No Sacrifice in Cruising Speed = Keeps High Top End
Before embarking on this journey, Erik made one thing clear, he was not willing to compromise on any part of his wing's performance. Unifoil agreed and unlocked the budget to prototype each size until they were perfect.
Pump, glide, turnability, stability, pitch control, big or small conditions – Erik wanted a wing that could do it all, not just do it well, but be best in class, and he wouldn't settle for anything less.
"What makes this range unique, is instead of just scaling up and down the size range, each size has been designed and prototyped from the ground up, until the desired feel was achieved for the size of wing." Erik Antonson
What we have managed to achieve with this wing is the trademark Unifoil smooth buttery feeling, mixed with the glide and pump-ability of a super-efficient high-aspect wing, without sacrificing any turnability.
Predictable in turbulence and wing tip breaching, but without sacrificing any speed. This wing is a true unicorn.
The Progression feels like a true high-performance surf wing when riding in the wave pocket, but has such easy pump and glide that it allows the rider to pump back out easily after a long ride, and do it again, multiple times over.
In fact, the glide and low end is so groundbreaking, it allows the rider more rest time between pumps, which means reduced burnout and improved cardio to distance ratio.
Not to mention, this wing catches any tiny ripple or bump of swell on offer. Riders' feedback from pro to amateur is they are getting their longest rides ever on this wing. This wing is a game-changer for all disciplines of foiling.
Disciplines
Prone – Rip the wave to pieces, then pump back out and do it again without burning out.
Tow – Super tight arcs in the pocket and catch any swell from miles out.
Wingers – Longer glide time allows for easier turning for jibes before stalling the wing.
Downwind – Reduced fatigue and the ability for this wing to ride the smallest bump of swell means longer DW runs, and allows for advanced riders, to drop down to smaller foils and still be able to get on foil easily but go faster and turn on the chops harder.
The Progression gives riders a stable platform to build on whether you are a beginner to intermediate rider wanting to figure out your pump, or a pro doing backflips, we have sizes and setups to suit all. Put simply, the Progression wing will take you from where you currently are, and propel your riding level into the stratosphere
Fuselage
Full carbon, no foam, made using only the highest-quality premium materials. Stiff and durable for heavy riding and taper locked for no play.
Full carbon, no foam, made using only the highest-quality premium materials. Stiff and durable for heavy riding and taper locked for no play.
39 cm – NEW extra long for wind wing racing and downwind (not recommended for prone/surf).
33 cm – Original length (formerly long) recommended for most riders.
27 cm – Shorter length made for tighter turning and shorter radius. Recommended add-on for advanced riders to loosen up the foil for carves and quick direction changes and easier pumping.
1 bolt fuse (Required for Vyper and retrospective models) 2 bolt fuse (Recommended for Hyper2 and Progression Wings)
If you already on the system your 1 bolt fuse might fit the new 2 bolt wings (Hyper2 and Progression)
Tail Stabilizer
IND YOUR FEEL
One outline.
Three different profiles.
Infinite possibilities…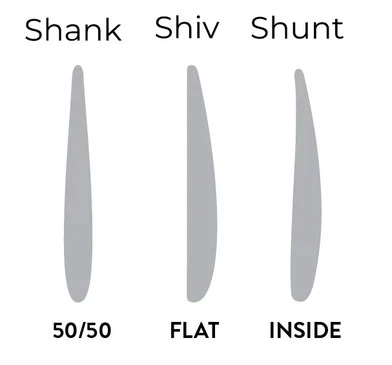 TECHNICAL SPECIFICATIONS
Each model is available in 13" (330mm) and 14" (355mm)
13″ suits lighter riders and more high-performance riding
14″ suits heavier riders (80 kg plus) or for increased pumpability
Unifoil designer Clifford Coetzer has come up with a novel approach to stablitizers that lets you find exactly the right feel to suit your riding style. Using the same cutting-edge stabilizer outline, he has created three very different profiles for back-footed, neutral and front-footed riders. Take the outline that suits you and shim it according to the conditions.
Shank: Backfooted, Symmetrical 50/50 foil
Shiv: Neutral, Flat/ asymmetrical foil
Shunt: Front footed, Reflex/ inside foil
G10 material: G10 is delicate material will not withstand reef and rock contact (and is not covered by warranty).
DIY: Find your favorite tail of the 3, then use the other 2 tails to sand down in the chop shop and experiment with different sizes and profiles.